Meow~~~~ from Kuching!
My 4th day in Kuching, and been eating like never eaten before. I can't take it no more, my stomach has stretched to it's limit and now calling for a break. I think I really need to take it slow and easy.....
Anyway, the main focus of this post is about my Singapore stay (still).
Last Saturday, my bro brought us to Charcoal in City Hall (next to Funan). The food is average (can't complain with that price). Ambience is great, just like any other fine dining restaurant, graceful and relaxing, with awesome service!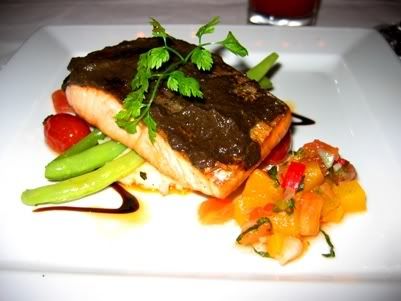 All of us! Cheeky nephew of mine, always so cute with his pose
Then, came along Monday, I lost my blogger-friend-meeting virginity to ECL! Yeah, ECL was so nice to meet me at Changi airport, before I left Singapore for Kuching. A nice and graceful lady she is, just as I expected.
She was so kind to bring me the infamous authentic Katong laksa of Singapore! The laksa....I tell you....is heavenly! Thank you ECL! Much appreciate it, really!
Okie, that's for now.....